Medical cannabis – CBD and medicinal THC
Topic: hemp oil for pain

Medicinal cannabis can be ingested, inhaled, applied topically as a cream, or dissolved for spraying. The speed at which the effects are felt can vary depending on the type of medicinal cannabis.
Cannabis oil:
Cannabis oil is diluted in a carrier oil, such as sunflower or avocado oil. It is administered with a dropper or taken in capsule form. One can mix the oil with food or drink or place it under the tongue for a minute to help it transfer into the blood.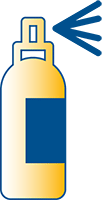 Atomizers:
With atomizers, the product is applied under the tongue, where it is quickly absorbed into the blood.


Topical creams:
Topical creams can be applied directly to the skin and are absorbed into the blood. Topical creams can relieve pain in the part of the body where they are applied.

Cannabis-infused foods:
This category includes all food products that contain cannabis, including foods produced using cannabis-infused cooking fats (olive oil, coconut oil, butter, etc.). These products are assimilated by our digestive system and can take up to two hours to take effect. The effects of cannabis edibles last longer.

Vaporizers, electronic cigarettes, joints:
Dried cannabis must be heated for the CBD and THC to take effect. Vaporizers and e-cigarettes use heating elements that activate these chemicals. Smoking medicinal cannabis is not recommended.
If you are using medicinal cannabis for the first time, it is advisable to start with a small dose of a product containing mainly CBD and then increase the dose gradually until you get relief from your symptoms. The capsules and oils make it easy to track the dose and calculate a low dose for symptom management.

If you consume cannabis-infused edibles, it is important to be careful and only ingest small amounts that contain low doses of THC, as edibles may have more intense effects than other forms of cannabis and may cause more pronounced side effects.
For more information on forms of medicinal cannabis, please visit our online learning module:
Medicinal Cannabis and Arthritis – The Forms Medicinal Cannabis Can Take
This tracking sheet will help you monitor the effects of your medicinal cannabis treatment and communicate with your doctor about what is working and what is not: